About
| | |
| --- | --- |
| | Cisco Password Decryptor is a free desktop tool to instantly recover Cisco Type 7 Password. |
Cisco Router device allow three types of storing passwords in the configuration file. Here are the different password types

Cisco Type 0 Password: These passwords are stored in plain text
Cisco Type 5 Password: These passwords are stored as salted MD5 hash. Requires brute-force attack to recover password
Cisco Type 7 Password: These passwords are encoded using Cisco's private encryption algorithm & can be decrypted instantly.

Cisco Password Decryptor tool helps you to quickly recover Cisco Type 7 password.

It supports dual mode of password recovery.You can either enter the encrypted Cisco Type 7 password directly or specify the Cisco configuration file. In second case, it will automatically detect the Type 7 password from config file and decrypt it instantly.

This is very handy tool for all Cisco Administrators as well as penetration testers. It is successfully tested on both 32 bit & 64 bit windows systems starting from Windows XP to Windows 8.
Features
Free Desktop tool to quickly recover Cisco 7 Type password
Supports direct password decryption or recovery from Cisco router configuration file.
Recovers password of any length & complexity
Very easy to use with nice GUI interface.
Fully portable and can be run directly on any system
Installer for local Installation & Uninstallation.

Installation & Un-installation
Cisco Password Decryptor comes with Installer to help in local installation & un-installation. This installer has intuitive wizard which guides you through series of steps in completion of installation.
At any point of time, you can uninstall the product using the Uninstaller located at following location (by default)
[Windows 32 bit]
C:\Program Files\SecurityXploded\CiscoPasswordDecryptor

[Windows 64 bit]
C:\Program Files (x86)\SecurityXploded\CiscoPasswordDecryptor
How to use?
It is very easy to use tool with its nice GUI interfaceusers.

Here are simple steps
Run 'Cisco Password Decryptor' on your system after installation.
Select 'Encrypted Password' option if you have the password else select 'Cisco Router Config File' if you have the Cisco configuration file.
Next enter the password or configuration file path based on the previous option
Finally click on 'Decrypt Password' button and tool will instantly display the decrypted password as shown in the screenshots below.

Screenshots
Screenshot 1: Cisco Password Decryptor is showing the recovered Password from the encrypted Cisco Type 7 Password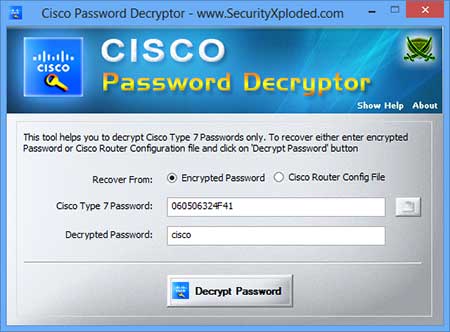 Screenshot 2: Showing Password recovered from the Cisco configuration file directly.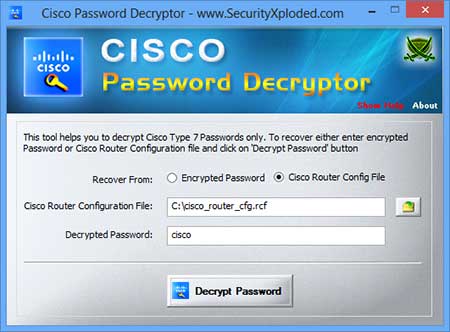 Disclaimer
'Cisco Password Decryptor ' is designed with good intention to recover the Lost Router Password.
Like any other tool its use either good or bad, depends upon the user who uses it. However neither author nor SecurityXploded is in anyway responsible for damages or impact caused due to misuse of Cisco Password Decryptor .