Windows 8.1 Officially Unveiled with New Features and Start Button
Microsoft
has officially unveiled the new Windows 8.1 Operating system. In this new version of Windows, Microsoft has tried to respond to customer feedback. This new version of Windows comes with
Start
Button
. Microsoft has tweaked every aspect of operating system.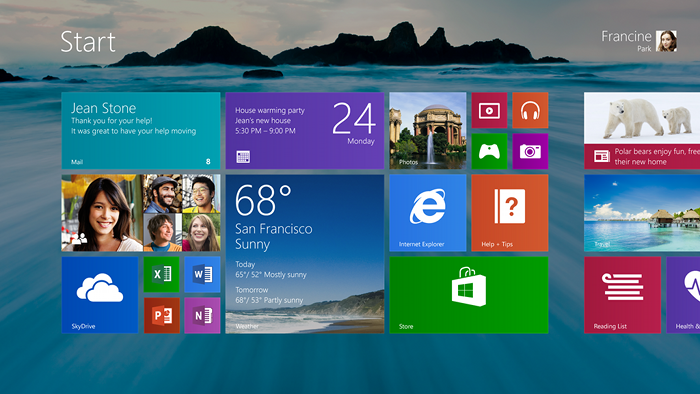 In addition, Microsoft has added few features like personalization, Windows store, built-inn apps and search. There are many other improvements.
"Windows 8.1 will deliver improvements and enhancements in key areas like personalization, search, the built-in apps, Windows Store experience, and cloud connectivity," said Antoine Leblond, corporate vice president,
Windows
Program
Management, in an official blog post. "It's Windows 8 even better."
Start
screen
received so many improvements. It will allow users to change background and color. TO move tiles, users will have to press and hold a tile before moving. Users can also do the same via right click.
"You can now select multiple apps all at once, resize them, uninstall them, or rearrange them. We also found people were accidentally moving tiles on their Start screen so in Windows 8.1, you press and hold (or right click) to move things around," it said.
If you use lots of apps on your system, Start Screen will allow you to find an app by name, date or by category. Built-in search feature also received improvement. Now it can search everything including local drive, apps, files, SkyDrive and web.
Microsoft has also improved built-in apps with new features. These apps are Mail, SkyDrive, Camera and Music. Users will also be able to save files to SkyDrive direct from
desktop
. Users will also be able to
access
files
stored on the cloud with SKyDrive app.
Window
8.1 will come with the newer version of Internet Explorer. New Internet Explorer 11 will be faster and optimized for touch devices. It will also be able to sync your tabs between multiple devices. Similar feature is already available on Chrome and Firefox browsers.
After June 26, Microsoft will release the preview version of Windows 8.1. Interested users can